Charlie Musselwhite (Part II) – Komedia, Brighton, 18th November 2008
"Why we elected Bush worries my mind"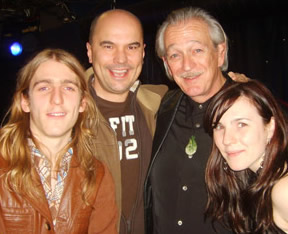 I must confess, having seen Charlie in action again after a break of seventeen years, I remain unconvinced about his credentials as a performing artist. Last time he was upstaged by his backing band. This time his lengthy digression into solo guitar and rack harp was brave, but wasted. Any impact was lost owing to the wagon load of down home guitar already delivered by Dave Peabody. The audience had thirsted far too long for that big town electric harp. When it came, of course it was well received, but it was still insufficient to quench their frustration. Barely a twenty minute stretch at the end of a long evening. When Deep Purple did that, fans tore down the stadium, uprooted street furniture and rolled cop cars. Tonight people had the last bus home to think about.
I had hoped that my enduring ambivalence towards Charlie's music would melt in a blinding epiphany this evening. Having seen the show however, there was no change. Instead, I felt my reservations had been vindicated. One nagging question still simmered though – what exactly was it I was blind to that others understood so clearly? It mystified me. The imaginary urchin continued crying out from the crowd – 'the Emperor's wearing no clothes.'
As a recording artist I know Charlie has had his moments. 6 Grammy nominations and 18 WC Handy awards to be specific. He covered AC Reed's My Buddy Buddy Friends years ahead of Dr. Feelgood. Taylor's Arkansas strikes a primeval chord to rival anything by RL Burnside. Harpin' On A Riff underpinned other seminal showcase harp instrumentals. Christo Redemptor has been over-egged but is valid nevertheless. I accept Charlie's been around a few years and the popularity of the blues took a big dip in the 70's and 80's, but his moments seem too few and far apart to me. Perhaps a chance to chat with the man might trigger my enlightenment. We sat down together after the show.
I read that Charlie had become an active social commentator in the wake of hurricane Katrina. What, I wondered, was his reaction to the recent election of President Obama? I mentioned TV footage of the black community weeping with joy. The resolution and pride in Jesse Jackson's tears. Samuel L Jackson already booking his room in DC for the inauguration celebrations. The cries of 'yes we can' and the 'unlikely story that is America' speech. Charlie's opinion was very clear.
Charlie, what's your reaction to the election of Barack Obama?
'Senator McCain! I could slap people. Why we elected Bush worries my mind. There's been a dumbing down of America. They feed people baloney. We have no real free press. Just a corporate press. Jesse Jackson? Well there's a popular saying out now. Rosa Parks sat so we could all sit. Martin Luther King crawled so we could all crawl. Obama stood up so we could all stand up. Or something along those lines.'
So what is the truth behind the Suicide Blonde story?
'I recorded three tunes with INXS. One tune was sampled and played through a keyboard by Andrew Ferriss. Nice guy. I was in Sydney on tour in Australia. Henri took a call in the hotel room. Who is this? INXS? I'd never heard of them. They asked me to come down to their recording session. They were real nice guys. No egos or anything.'
Tell me about diaphragm vibrato Charlie. I've heard you are an exponent.
'You just stagger your breath. Mentally you've gotta think as far back as you can. You can move your consciousness throughout your body. Think deep and far back. It may sound strange. The power of your finger, for example, is in your arm. Think of that power.'
How is it going with your place in Clarksdale?
'313 South Coahoma Avenue Clarksdale? Well we finally have gas and water! I have no plans to live there permanently though. No place in the city. I still live in California, north of San Francisco.'
What do you have lined up in the coming months?
'Oh a few things. I'll be working with Mark Hummel on tour in the new year. Curtis Salgado. John Mayall.'
Tell me about Harpin' On A Riff
'Do what? What do you mean?' I repeated the question and mentioned that Charlie had touched on the instrumental during his show. He gestured to me to speak louder. I tried a third time. 'Oh Movin' And Groovin'? It's just a jam. It's based on a Charlie Parker riff.' [the two tracks are in fact different. Checkout Movin' And Groovin' here]
And how do you link the two ends of your harp so comfortably in 1st position?
'You just see what comes next or what sounds right to you, then start at the top. Get some practice in nomansland. Find out what works with you.'
How about the guys that play fast?
'That's ok, but you need to play from the heart. Some of them could sign up to notes anonymous! They have a huge vocabulary, but nothing much to say.'
What will you do when you get home off tour?
'It's quiet time at home. I can stare out of the window. That's when I should put a sign up saying Artist At Work. That's when you get an idea.'
I pictured Charlie staring out of his window in California. That was when I felt the penny drop and a light came on. As a performer I think Charlie's a shy man. As an artist he does have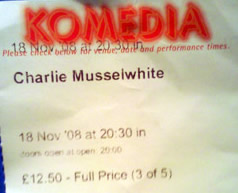 something to say however. He grew up with the blues. He's lived the blues and suffered for his art. His mother was murdered. He survived a near fatal car crash driving home from a gig. He wrestled with alcohol for years and prevailed. The very fact that he was there at the right time is almost enough in itself. He went to school with Johnny Cash's brother, but chose blues over country and rockabilly. He sat in with Muddy Waters, Little Walter, Howling Wolf and Walter Horton. At one time he was one of very few white harp players on the circuit in Chicago. Paul's Butterfield and Oscher notwithstanding. He is a priceless link to the classic Blues period.
Through all this he is a genuine guy, principled and full of humility. But most importantly, he has contributed his own canon and philosophy to blues music. His unsophisticated guitar work, experimental harmonica playing and monotone vocals mean his true value probably won't hit you at first. Accept this and be patient. You don't have to get Charlie straight away. Given time, he'll get you.
The fading ticket from 1991 on the harp surgery wall now has a younger neighbour and I think I can finally say, I understand the harmonica according to Memphis Charlie. My thanks go to Charlie's management for putting me in touch with Henri, to Henri for ringing and giving me the chance to meet Charlie, and to Charlie for being so gracious. You can visit his website here.