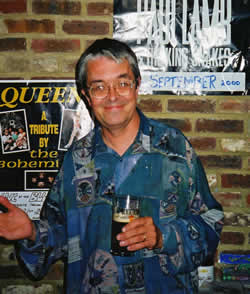 It is with great sadness that I have to relate the passing of Louis Borenius; husband, father, friend, and musician. Louis died of heart failure in Salisbury Hospital early last week. The news has come as a deep shock to all who knew him.
Some of you will have enjoyed performances by The Blackjacks over the years. Whether it was at the UK national blues festival, other nationwide venues, Ain't Nothin' But in London's Soho, or locally here in Brighton & Hove, Louis was an integral and vital figure. And not just with the Blackjacks. He also drummed or played vibraphone for Coup d'Etat, Big Chief, Bop Brothers and countless other top jazz, blues and rock ensembles. Indeed Louis' pedigree extends right back to the early jazz days of Ronnie Scotts and the UK's emerging live music scene. You mention them, he's played with them.
Today's service was a beautiful testament to one of life's rarest gentlemen, intellectuals, humanitarians and gifted music makers. Over 200 assembled to pay their respects. And those who couldn't join the funeral sent their condolences or turned out for the evening's wake at Brighton's Komedia. As one friend put it so perfectly, Louis knew so many high profile musicians, yet he always remained wonderfully grounded.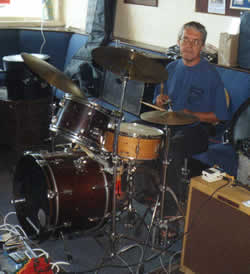 Louis' first love was jazz. They say jazz drummers make the best blues rhythm players. Louis was no exception. Speaking on behalf of the UK and Brighton blues scenes, I can mention that Jon Taylor from Blues In Britain magazine, Earl Green from Big Chief, Rory, Simon, Mick and myself from The Blackjacks and many, many others were there to pay their respects. Indeed, there were numerous musical friends, students, family and relations present throughout the day.
Let it be known that Georgia, Louis' daughter, had the spirit, courage and character to play solo piano at her father's funeral service. Also that Oscar, Louis' son, resplendent in his dad's famous waistcoat, was on stage at the Komedia this evening playing guitar to Jimi Hendrix' Purple Haze and Chuck Berry's Johnny B Goode with every ounce of musical professionalism and stage presence. Louis would have been grinning with pride at both his amazing children. We were. As was Suzie, his adorable wife.
Such moments are as beautiful as they are tragic. Louis will forever be treasured and remembered by all who knew him. Our deepest love and respect go to Suzie, Georgia and Oscar… Louis' shining and highly talented family. Louis used to sing 'But I Was Cool' by Oscar Brown Junior at Blackjacks gigs while holding the beat on his drum kit. He was cooler than cool. He is, and will always remain, our very dearest King Louis.