See me, feel me, touch me, heal me.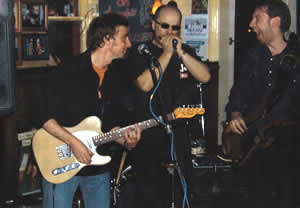 The Harp Surgery has been live for many months now, crammed with advice about how to do it, who else did it, when they did it, why they did it, where to hear it and what's good about it. A lot of words for a music site. Well, we think it's about time the Good Doctor opened his harp case and shared the medicine round. At some point you have to cut the chat and let the music do the talking. People, the Patent Blues Remedy is now live. Close all the doors, slide the phone off the hook, click here and get your fix.
You will hear edited highlights of tracks from both albums by The Blackjacks – What's The Deal? and High Roller, samples from the Doc's contribution to The Blue Hearts, The Elevators, Boy Cried Wolf and a secret snippet from a recent commercial music library blues CD.
We look forward to adding further tracks in the months to come and also embellishing the Surgery's instructional pages with sound bites. Oh, and keep it strictly between yourselves, but there is rumour of the Doc making his inaugural podcast on YouTube. All coming to a PC near you. Stay tuned.
Happy harping!