Vintage Ampro 104 / Shure CR80A (and memories of Gary Primich)
'Take a loooook up the rail track, from Miami to Canada.' With a song on his lips and a bounce in his step, Otis strode into the Surgery to deliver a letter from America. The Doc was plinking and filing away at a Crossover reed plate on his Sjoeberg 7.5 rig. He peered over his glasses and smiled. 'Your vocal chords would benefit from a go on here, Otis old boy!' Otis stopped dead. 'Whaddya mean?' 'Well, if you were a dressmaker,' the Doc replied, 'you'd be tucking up all the frills, instead of which, you're just..' 'I have the voice of an angel' Otis interrupted.
I have an old microphone
Skimming the letter across the work bench, Otis poured himself some Java from the Doc's cafetiere. The Doc gutted the envelope with a flick of his Swiss Army knife and withdrew its contents. It was a letter from Alan Cross in the USA. '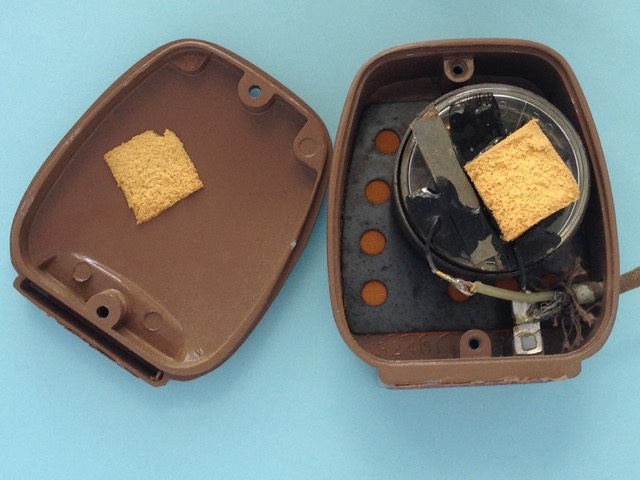 Hey there! I have an old microphone that I inherited and I don't know if it's anything special. It's an Ampro # 140/Shure CR80A. This is what it looks like inside. Can you tell me if it would be good for harmonica? Thanks, Alan Cross. PS  – My harmonica teacher years ago was Gary Primich. Not sure if you're familiar with him.' Keen to raise some cash, Alan had advertised his old microphone on e-Bay. The Doc checked it's progress. With only a few hours before the auctioneer's hammer, Alan's mic had realised $100.00 US. 'A bargain!' the Doc thought to himself.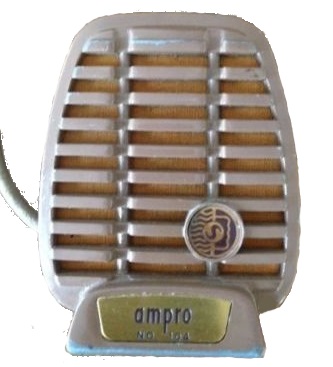 The Ampro Corporation
The Ampro Corporation was founded by Axel Monson in Chicago in the early 1900's. The company name was a combination of Monson's initials and the shortened form of Productions. Born in Sweden in 1883, Monson moved to the USA in 1902, finding employment with The International Harvester Company (IHC), manufacturers of heavy agricultural and construction machinery, in Rock Island, Illinois. By the early 1920's he had developed a keen interest in the motion picture industry, and perfected his own 16mm silent projector, which he marketed under the trade name Ampro. Business flourished and Monson went on to employ 700 staff. In the 1950's Ampro started manufacturing household reel-to-reel tape recorders, equipped with a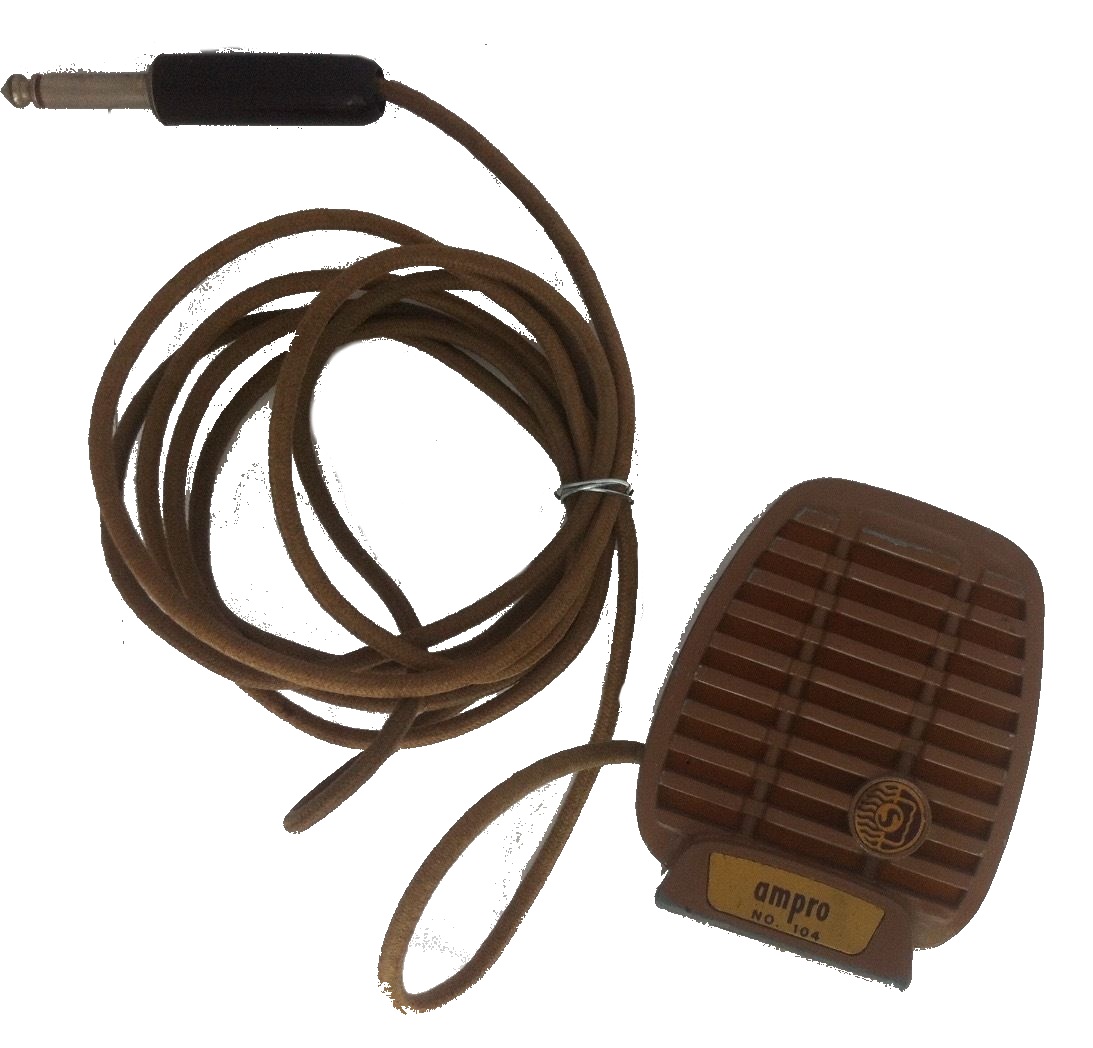 lightweight microphone. Which is where Alan's mic originated. Sadly however, Ampro was bought out by the General Precision Equipment Corporation in the late 1950's, when production moved to New York state, and by the 1960's Ampro was history.
Blows Me Away
We contacted Greg Heumann at Blows Me Away Productions and he confirmed that the Ampro in question was a an original reel-to-reel recording mic with a ¼ inch jack and controlled reluctance element; 'one of the most desirable CR harp elements around!' Greg buys Ampros for close to $200.00 US, refurbishes them, and sells them on at a margin to cover inventory, postage and any risk of a bad element.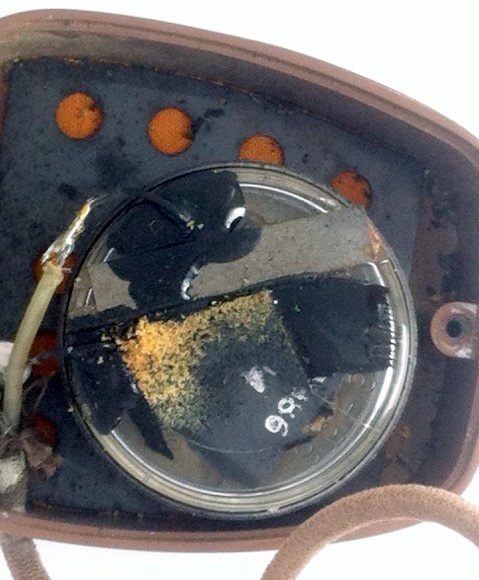 If you have an Ampro 104 lurking in the attic, the important information is hidden inside. Having opened the shell, you may have to peel away the sticky pad (the white square in the top image), but identifying the label on the element is critical. It could be a white label with the black lettering 99H86. Better still, would be a black label with white lettering, which was the case with Alan's Ampro.
Going once, going twice, gone!
Alan's mic eventually sold for $152.50 US. Not bad for a day's work. But who knows, with some homework, he might have improved on this a little. Maybe not. As he subsequently said, 'I had put this thing on e-Bay thinking it wasn't worth anything.' So something for nothing is the best equation. I'm sure we've all done similar. In the meantime, Alan had some special anecdotes which will forever remain priceless.
Memories of Gary Primich 
I met Gary [Primich] in 1987 or 1988, while I was living in Austin, Texas. I think he had an advertisement in Austin Chronicle, the local music rag, looking for students. I'll confess that my head wasn't totally into harmonica at the time, as I was too busy flunking out of college! We taped some of our lessons, but unfortunately I don't think I have them any more. Gary had also pre-recorded some lessons, which he sold in a group of four cassettes. I bought them, loaned them to a friend, and then my friend lost them. Maybe the cassettes were the same lessons that appeared on his instructional CD that eventually came out.
I remember Gary told me a story about how he himself learned to play the harmonica, and how bad he was when he started. He went to college in Gary, Indiana, and one year he stayed on campus during spring break, thinking it would be a great time to practice
because no one would be around. The first day he got out the harp and blew, he heard some guy say, 'Oh, f**k! Not the harmonica, again.'
I saw him many times with his band the Mannish Boys. He signed a copy of their album
A Little Dab Will Do Ya to me, but I gave it away before I knew he had passed away. On one of his albums, he's holding a Gibson ES-125, a guitar he sold to me for $225 (1988 prices!). He sold it for a friend; I took it to Mark Erlewine in Austin for a fret job. When it was done, Gary liked it so much I let him borrow it. In return, he lent me a red, vintage Muddy Waters Telecaster, which I never gelled with. I got the Gib
son back, but later it was stolen.
So, basically, all the physical things I had connected to Gary are gone. Which sucks. I never saw any signs of drug use back then. Although years later, I bumped into him on a plane and he acted extremely weird to me, so maybe that was when it happened. If I can ever find any of those cassettes, I'll copy them for you.
But you can't tuna fish
Otis and the Doc read Alan's letter and were awestruck. Without further ado, the Doc kicked the Surgery's Sonos system into life with his favourite Primich albums, Botheration and Dog House Music. Otis drained his coffee, grabbed his cap and set off to finish his postal round. 'Lochaber no more, Sutherland no more, Llllewis no more, Skye no more..' He rounded the duck pond and headed towards the Tickled Trout, the quacks and familiar shuffle of Angeline fading over his shoulder. Back at the Sjoeberg tuner, the Doc chuckled to himself. 'You can tune a harmonica Otis old boy, but you can't tuna fish.'
With thanks to Alan Cross and Greg Heuman.