Win A Copy Of The New William Clarke CD
So many smiles down through the years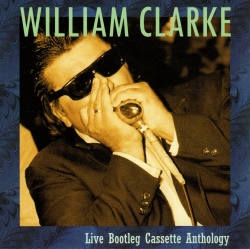 Harps down, heads up! Harp Surgery has been chatting with the lovely Jeanette Lodovici, former wife of the late great William Clarke, about her latest CD release: William Clarke – Live Bootleg Cassette Anthology. Read on to find out how you can win a copy!
Jeanette explained how the project came about: "There are so many pirate recordings out there of my late husband. Two of his fans sent me some of this bootleg music. Unfortunately it was poor quality, so I sent it to three different studios and finally we got a decent sound out of this badly recorded material.
I still had my doubts on the quality of the recording though. I promised Bill that I would never put anything 'bad' out of him. So I sent a few songs to eight people I respect. Seven of them told me it was great stuff and the quality really didn't matter. Well, I went with the majority.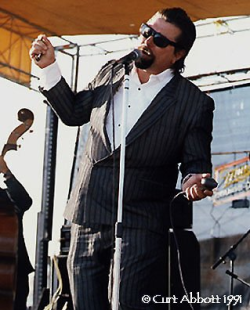 I haven't had any complaints about the CD, so far everyone seems to be so happy there is some more William Clarke available [Harp Surgery included – Ed]. So I'm glad now that I put this out. There are a few songs on the CD from Bill's very last tour. He died only two weeks after the show was recorded.
He was playing and singing great. His death came as such a shock to all of us. He was doing so good and feeling better than he'd felt in years. Guess we all have our time and Bill's time was when he was only 45. So sad to lose such a wonderful human being and such a great contribution to the blues world. I still miss him after all this time."
The latest release completes a trilogy of anthologies issued by Jeanette on behalf of her late husband. Fans can also enjoy the two 'early years' compilations, 1978-85 and 1985-91, which cover the important period prior to Bill's sign up by Alligator Records.
Well this is my last goodbye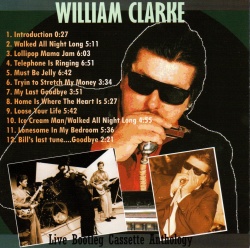 The new release features bootleg material that was recorded on cassette by two separate fans. Jeanette received the cassettes around 2004, one from San Diego, the other from Scotland. The music on both was pretty much the same, but there was scant indication as to where the recordings were made. The only clues written on the tapes were: Live In San Francisco 1991 and William Clarke Live Sept 1996, which would have been during his last tour.
In all, 10 full tracks have been digitally renovated and remastered, with a live introduction added and the final band outro delivered by William Clarke himself. Guided by dates, the band members are Zach Zunis (guitar), Rick Holmstrom (guitar), Willi Brinlee (bass) and Lee Campbell (drums), except for tracks 7, 8 and 9 which are from his 1996 tour. These feature Paul Bryant (guitar), Rick Reed (bass) and Brian Fahey (drums).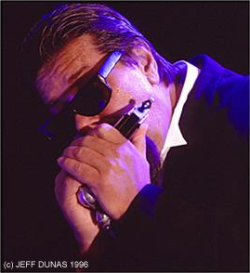 The CD runs for just under one hour and the tracks featured are: Introduction / Walked All Night Long / Lollipop Mama Jam / Telephone Is Ringing / Must Be Jelly / Trying To Stretch My Money / My Last Goodbye / Home Is Where The Heart Is/ Loose Your Life / Ice Cream Man / Walked All Night Long / Lonesome In My Bedroom / Bill's last tune…Goodbye
And while the vocal channel is occasionally slightly distant in the mix, the CD rocks nonetheless. The listener experiences the high energy, passion and musical finesse associated with a live William Clarke performance. Let's face it people, this is the real deal. So ramp up the volume, crack open a beer and join the rest of the crowd. Here's a small taster for you:
The Competition
To mark the anniversary of William Clarke's birthday on March 29th, we are offering a copy of the new William Clarke release to the lucky winner of our Easter competition. All you have to do is study the three following questions and drop us an e-mail to
clarke-competition@harpsurgery.com with your answers by the end of 5th April 2010 (GMT). Good luck!
Where was William Clarke born?
a) Inglewood California
b) Tanglewood California
c) Hollywood California
William Clarke's 1987 WC Handy Award nomination was for which album?
a) Blowing Like Hell
b) Rockin' The Boat
c) Tip Of The Top
Which former Muddy Waters Band harp maestro was mentor to William Clarke in the 1970s?
a) Paul Oscher
b) George 'Harmonica' Smith
c) Big Walter Horton
Your entry should be submitted to our competition email address:
clarke-competition@harpsurgery.com
The competition prize is one copy of the William Clarke: Live Bootleg Cassette Anthology CD
There is no cash alternative
The competition is exclusive to Harp Surgery and its direct readership
The closing deadline is 23:59 GMT Monday 5th April 2010
The winner will be drawn at random from qualifying entries
The winner will be notified within one week of the competition closing date
Harp Surgery reserves the right to publish the winner's name and country of residence
If you are kind enough to enter our competition but unlucky enough not to win it, copies of the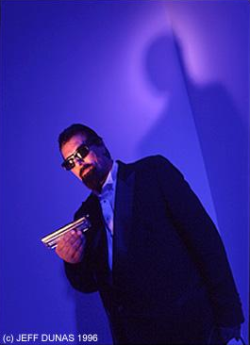 new CD are still available for purchase on line. Show Jeanette your support and make sure you get a copy. You may also like to purchase some of his later classics – we recommend Blowin' Like Hell, Serious Intentions, The Hard Way and Groove Time. Check them out at Amazon UK and Amazon US.
We plan to follow up our exclusive William Clarke competition with two new entries for our How Do They Do That? reference section: Greasy Gravy from William Clarke's fabulous Blowin' Like Hell album, and Blowin' The Family Jewels from his Tip Of The Top and Groove Time albums.
On the latter, Jeanette added some priceless background detail: "I do remember when Bill was in the bathroom (that is where he used to practice all the time) and came out and said to me, 'Well, I think I really have something here'.. he played me Blowin' The Family Jewels and then he said, 'I think that other harmonica players will notice me now' and he smiled at me."
Blowin' Like Hell was released 1989 and really brought William Clarke to worldwide attention. In the UK few had heard of the man prior to this. Indeed we vividly remember heated debate as to Bill's ethnicity; the album's cover image was somewhat enigmatic. However the contents leaped out and colonised our cassette players for months. The album remains an all time favourite of the Harp Surgery and we'd like to leave you with this footage of the great man talking about his work.
Acknowledgements
Harp Surgery respectfully acknowledges the help and friendship extended by Jeanette Lodovici in creating this competition. All William Clarke images and sound clips are published with Jeanette's full knowledge and approval.
In Loving Memory Of William Clarke
1951-1996
Gone But Not Forgotten
Visit the official William Clarke website